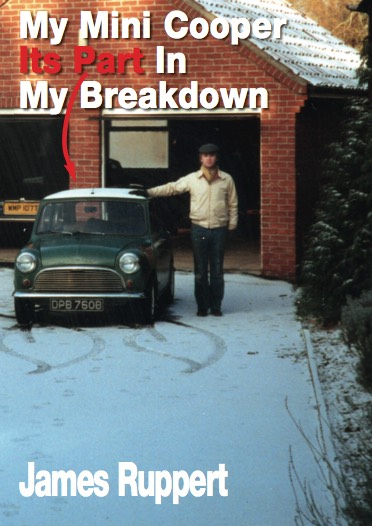 Here for the first time is a short history of the small car from 1885 to 2000 and an examination of what came before, during, but not after the Mini, including the fairly complete story of the Mini and Mini Cooper from 1959 to 2000.
 James Ruppert is not used to spending very much money on cars, so when he decided to finish the restoration of his 1964 Cooper, started in 1979, the bills started to mount up and mentally he started to fall apart.
 Bought for £200 and a bottle of wine, it would eventually cost almost one hundred times that finish. Serial Mini owner James Ruppert explains how not to buy, run or restore a classic car, and why owning one might be some form of unwellness. He's a man who can't be trusted with an old car, but can be relied upon to explain how the Mini came about and what it was up against throughout the decades.
 From the author of the critically acclaimed, The British Car Industry Our Part in its Downfall, and the Mercedes Montagu of Beaulieu winning The German Car Industry, My Part in its Victory, here is the full story of his seriously mistreated Mini and how the small car came to rule the world.
Oh yes and. The distinctive Mini Binnacle pops up when Ruppert tries to restore his Cooper. At a glance you will be able to gauge (geddit?) just how complete the Cooper is, how interested he is in it and just how much money he is sinking into what sometimes seems like a lost cause.
Published by Foresight Publications it costs just £12.99 and can be bought postage free and signed/dedicated right here. Victory can also be found at all the usual online booksellers like Amazon and Play and the ISBN is 978-09559529-5-1    
Channelling the absurdist spirit of Spike Milligan - Classic Cars
Witty - Classic Car Mart
Truthful and Witty - Classic Car Buyer
A great read - Daily Express
It's madness - Steve Cropley Autocar
Refreshing - Dep-O.co.uk
Enjoyable - Mini World
Entertaining - Mini Magazine
My Mini Cooper Its Part In My Breakdown 
Sorry, I no longer sell the book direct, so please order from your preferred book supplier…. There is a digital version.

My Mini Cooper its Part in my Breakdown EBook £2.99

BUY THESE BOOKS HERE
BUY THESE BOOKS AND PDFS FROM MY FLYSCREEN WEBSITE CLICK ON THIS LINK