Free Tax Discs don't let your holder go to waste, click on the discs to visit the page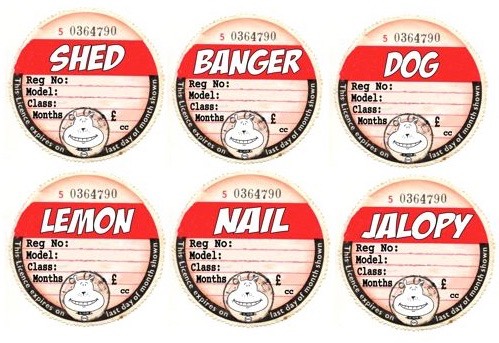 World Cup Cortinas is out now...
A unique book about Footballers and their cars throughout the ages and whatever happened to the 1970 World Cup Ford Cortina 1600Es. Click on the cover to read more.
See the Used Car Konfigurator in action
There are some free car buying guides (Auctions, Classic Cars and Check Sheets) that you can download, for  free right here. Oh Yes, 70's superhero Spencer Haze has his own unique guide to buying a classic, because he was right there when they were brand new.  
ASK QUESTIONS
If you have a question then by all means get in touch and I will do my best to help. Ping me a question [email protected]
BUY BOOKS
There's a graphic novel (comic)  featuring '70s Superhero Spencer Haze and you can download a PDF, Spencer Haze Won't Get Fooled Again
You can also buy the award winning book The German Car Industry My Part in its Victory.
The critically acclaimed The British Car Industry Our Part in its Downfall is here.
If you are into Bangernomics then you can buy the Bangernomics Bible in real book and also virtual PDF form.
WATCH VIDEOS
You can read my half baked opinions every week both in Autocar, the oldest and very best car magazine. Click on the logo to see my blogs....
Buy all means get in touch and ask questions, make any points, or just tell me off by pinging your point to [email protected]