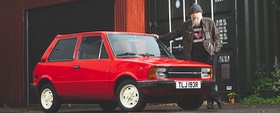 Above picture by Luc lacey for Autocar.
Here is a brief round up of my professional automotive career. Not comprehensive. Mostly true and likely to be updated. So... used to sell cars in the 1980s then wrote a bestselling book (Dealing with Car Dealers) about how car dealers operate. 
Magazines and Newspapers
Used Car column for Car magazine in 1987 thanks to Steve Cropley. Also Frontline columnist in the mid 1990s, general feature writer and Editor of the Good Bad Ugly.
Contributor to Supercar Classics. Performance Car used car expert as Eddie Riff and later under own name. Also articles for Classic Cars, Practical Classics, Classic Car Weekly, Parker's Chooser and oddly Tatler and Woman's Own as well as loads of others. Oh yes and blokes mags including Esquire, GQ and FHM.
Independent Newspaper from 1989. General features on all aspects of motoring especially buying cars both new and used. Motoring transferred to Independent on Sunday in 2003. Column answering readers buying car conumdrums. 
Sunday Times Classic Car Price Guide and also some Buying Guide features in 1989.
London Evening Standard general motoring features.
Autocar Columnist since 2006, plus buying guides and general features.
Free Car Mag 2015 to date, founder and editor of the most successful digital car magazine. 
Online
Produced loads of online content over the years including Car magazine and Parker's Price Guide. One of the founders behind 4car.co.uk in 2000. One of the lead bloggers for Autocar.co.uk.
Books
Please see links at the top of the page where you can buy them. Pleased to have coined the phrase Bangernomics in 1990, book followed in 1993 and an all new version in 2010. Also The BMW Drivers Book, Vauxhall Driver's Book and Jaguar Driver's Book (all 1990). One quarter of the Encylopedia of Classic Cars (2003), Audi TT (2003). Bangernomics Diet (2019), Bangernomics Rebooted (2019), Demotorized (2020).
TV
(1993) Ulster TV, wrote a presented a short series of inserts on how to buy a used car. Also appeared on Channel 4's Ride On (1993). Executive Producer Deals on Wheels for Channel 4 (2001).  ITV2 as presenter for Dealer's Choice (1999), as an expert picking out cars for buyers. Mark Lamaar's Celebrity Relics BBC2 (2001) looking at Princess Diana's old cars. Contributing Editor for Driven supplying information and material for buying guides and features. Top Gear (2003) provided market information and news snippets about new and used cars. Das Auto (2013) BBC documentary based on my books The British Car Industry Our Part in its Downfall and The German Car Industry its Part in my Victory. Presented by Dominic Sandbrook, long interview in my Mini Cooper. The BBC One Show in 2014 abiut the World Cup Cortinas.
Radio
Loads of phone ins and interviews on national and local radio. Radio 5 Live, Radio 4, LBC, Talk Radio, Radio London, Coventry and Warwickshire etc.
Illustrations
Marque Charts for Practical Classics. Cartoon strip for Car Magazine called Bulldog Motors. Spencer Haze. Illustrations in most of my books.
Used Car Checks 
First nationwide, garage based used car inspection service set up in 2003 with Warranty Direct and Unipart. Ran for twelve years.
Awards
A few...
JR is available for work.