The Bangernomics Bible, available as a good old fashioned book with paper pages in it, or even a super futuristic EBook on which you can read on any electronic device that can deal with a PDF, which is just about everything.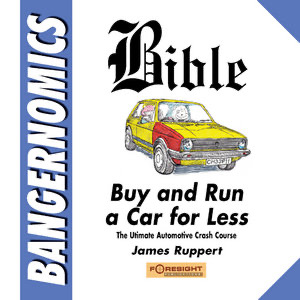 Bangernomics Bible Book  
This is the all new Bangernomics Book which is future proof and universe friendly. That means it won't date ever even if you buy a hover bike or whatever is the latest thing in 2059 and wherever you are in the world it just contains the common sense advice you need to buy a decent secondhand car. 
BUY THESE BOOKS HERE
BUY THESE BOOKS AND PDFS FROM MY FLYSCREEN WEBSITE CLICK ON THIS LINK  

Here are some of the nice things that have been said about the Bangernomics Bible.
Save money buy a banger - Bangernomics Bible: Buy and Run a Car for Less which sets out the case for why we should all be driving old rather than new. The Independent on Sunday
What it does do, though, in great clarity (and rather amusingly) is guide you through the processes step-by-step in such a way that buying that banger becomes a clear process indeed. Keith Adams Austin Rover Online 
It's been a long time since we've read something so unpretentious - there's no doubting that James Ruppert is a master at teaching people to buy, run and sell cars cost effectively. Car Mechanics
Witty Book full of sound advice about buying a cheap safe and reliable runabout. Classics Monthly
Bangernomics could save you a small fortune Irish Independent
In his book he outlines how anyone can buy reliable cars - like old Golfs - for next to nothing and run them for a couple of trouble-free years. Used Car Expert
Proudly wear Bangernomics on your chest, brilliant designs are here and we are always adding new ones...